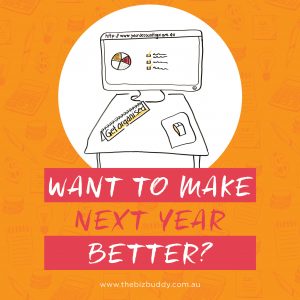 Is your business profitable, fun and rewarding? Or do you feel you are just scrapping through each month and asking yourself, "was I crazy thinking this small business gig was for me"?
Starting a business was going to give you a work/like balance, right? But are you lying awake at night asking yourself:
how am I going to pay this week's bill?
how am I going to get everything done this week?
how am I ever going to get this bookkeeping, tax & accounting thing?
Well as the owner of a successful accounting firm for nearly 17 years I know exactly how you feel. As "The Biz Buddy", I am passionate about sharing my knowledge, tools and tips with businesses just like you (not just my clients). My series of e-books, e-courses, templates & workshops will teach you the basics and will give you financial confidence so you end up having a much better relationship with your accountant.
It started out fun …..
Starting a small business is such an exciting time. Often, it symbolises the freedom to get out the rat race or to say goodbye to that cubicle job that was doing your head in. Bliss you thought …… being your own boss, charging those big fees or perhaps just a sea-change.
 But what happened ……..
Some parts are still fun but you just feel overwhelmed. Quotes are now taking a week to get out, family time is getting eaten into and the final straw, your bookkeeping and taxes are falling behind. We are spoiled for choices when it comes to beaches here in Port Stephens and I want you to be feeling the beautiful sand on your feet and not burying your head in it!
Let's get you back on track ……..
With a new financial year upon us, forget what's happened in the past. It's time to take action and get you back on track!
You will need a piece of paper & an open mind. Here are some ideas to get you started:
what are your goals?
should you increase your prices?
should you drop an unprofitable service/product line or an unprofitable/unreasonable client?
should you make staff changes?
should you hire a bookkeeper?
should you get a better record keeping system? (no shoe boxes allowed as there is something for every budget – manual tally sheets, spreadsheets, cloud based accounting software such as MYOB or Xero)
should you re-engage with your accountant or find a new one that you are going to feel more comfortable with?
should you be learning more about general bookkeeping, accounting and tax concepts so when you meet with your accountant, you will have more productive and valuable meetings?
If you would like to connect with me, visit my website https://thebizbuddy.com.au/ and like my Facebook page https://www.facebook.com/TheBizBuddy/. You will get my "Motivational Monday's" tips, my latest blogs and be kept updated all from the comfort of your own home or office. I will also be hosting some small "biz buddy bootcamps" during the year .
Good luck for the 2016/2017 financial year and let's all enjoy doing business in this beautiful place we call home.
First Published in "What's on in our Backyard Port Stephens" Winter 2016