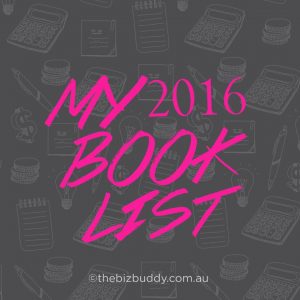 I am a serial buyer of biz books & will often buy multiple books at once.
Unfortunately I don't seem to get enough down time to read them as quickly as I buy them.
One of my goals this year is to get stuck into reading more of my collection, so I have written down a list of what books I am committing to read in 2016.
Here is my list which may also give you some inspiration.
Big Magic ~ Elizabeth Gilbert
Built to Last: Successful Habits of Visionary Companies ~ Jim Collins
Daring & Disruptive ~ Lisa Messenger
Entrepreneurial StrengthsFinder ~ Jim Clifton
E-Squared ~ Pam Grout
Four Hour Work Week ~ Timothy Ferriss
Get Rich, Lucky Bitch ~ Denise Duffield-Thomas, The Lucky Bitch
Good to Great: Why Some Companies Make The Leap … and Others Don't ~ Jim Collins
Key Person of Influence ~ Daniel Priestley
It All Starts with UQ Power! Boost Your Income, Influence and Impact ~ Heidi Alexandra Pollard
I Want What She's Having ~ Naomi Simson
Leaders Eat Last ~ Simon Sinek
Life & Love ~ Lisa Messenger
Live What You Love ~ Naomi Simson
Money & Mindfulness ~ Lisa Messenger
More Of The Fit Woman's Secrets ~ Lorna Jane Clarkson
Oprah Winfrey's What I Know For Sure ~ Oprah Winfrey
O's Little Book Of Happiness ~ Oprah Winfrey
O's Little Guide To Finding Your True Purpose ~ Oprah Winfrey
Start With Why ~ Simon Sinek
The Big Leap ~ Gay Hendrick
The E-Myth Revisited ~ Michael Gerber
The Tipping Point ~ Malcolm Gladwell
The Naked CEO ~ Alex Malley
The Secret ~ Rhonda Byrne
"Well Said" ~ Amber Daines
What biz books would you like to read in 2016?
Grab a cuppa, make a list & then open the pages of book #1.
HAPPY READING!