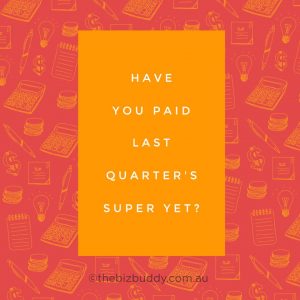 Your super contributions for the quarter (1 January – 31 March 2016) need to be RECEIVED by your employees' super funds by 28 April 2016 which is the ATO cut-off date.
Please allow enough time for payments to be received by your employees' super funds.
This will become even more important from 1 July 2016 when SuperStream becomes compulsory. The funds need to leave your account, be received by your SuperStream provider who will then send it to your employees' super funds. This lagtime could be as much as 2 weeks so paying your superannuation on the cut-off date is certainly not advisable.
Get into good habits starting this quarter and pay your employees' super by this Friday, 15 April.
Maybe it's a good time to check-in with your accountant to make sure you have your super obligations covered & up to date. If you haven't, now is the perfect time to action. Your accountant will be able to help you before you get that dreaded phone call from the ATO!